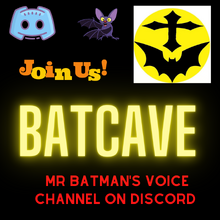 JOIN THE BATCAVE TO TALK TO MR BATMAN
JOIN THE DARTH DAWKINS FACEBOOK GROUP AND TALK TO MR BATMAN
Christian Hillbilly is a notorious Mormon Presuppositionalist who has been debating preaching hellfire to atheists online for a decade. His intention is to trigger atheists although he has only succeed in a handful of cases.
He is noted by his bad faith style of debate. He will never allow himself to debate on an even playing field and will only engage if he has the ability to server mute his opponent. Which he will do if he feels even slightly challenged.
He admits readily that he has short term memory lose and other neuro-deficits due to ingesting mold spores. This is ironic given that his ad hominem of choice is calling others retarded. To further the irony a noted symptom of ingesting black mold spores is delusional religious blathering.
Mr Batman passionately hates homosexuals and is the community's biggest transphobic Christian
Mr Batman will take every opportunity to attack transgender people. He has a history with transgender atheist Brenda Von Ahsen
Ironic that Mr Batman spends so much time in our community since we have many transgender members
Mr Batman Best Performance
[
edit
|
edit source
]
Godless Girl Blog Post About Aronra vs Mr Batman Debate
Mr Batman recently debated Aronra who is a high profile atheist Youtuber. He was unable to answer any of Mr Batman's questions and he said that "consciousness pre-exists everything" Mr Batman pointed out position is the Christian Worldview!
On 12/18/2019 Mr. Batman attempting to engage in debate with Ethan who is a practicing Roman Catholic. (Mr. Batman believes Catholics to be cultists) Mr. Batman was unable to justify any of his positions to the Catholic and was only able to use circular reasoning. Mr. Batman also desperately attempted to dodge most of the questions that Ethan had for him by just repeatedly reading off random Bible verses without context or understanding. Ultimately Ethan backed him into a corner by constantly pointing out all of the problems in his argument and finally Ethan pointed out that despite Mr. Batman claiming to be a man of God he constantly insults his opponents (haveing insulted Ethan numerous times even making a pedophile Catholic joke) Ethan pointed out that the Bible explicitly states not to speak like this especially when claiming to bring glory to God, Mr. Batman simply went quiet and then left the voice chat.
http://www.christianhillbilly.com/
https://www.facebook.com/TheChristianHillbilly/
https://twitter.com/C_Hillbilly
https://www.facebook.com/groups/DarthDawkins/
Sidney Winston Blog On Mr Batman
Atheist vs Christian Debate Discord Server
Community content is available under
CC-BY-SA
unless otherwise noted.